Curlfest 2017 Tells Us the Natural Hair Movement is Here to Stay
The 4th Annual Curlfest started off as an R&B dream — as Black women with multi-colored updos, coily twist-outs, and freshly-shaven heads sauntered into the typically slow-paced landscape of Prospect Park, excitedly murmuring over the familiar coos of 90s era harmonies. The park's swath of green was painted nearly unrecognizable by one of summer's most radiant and unabashedly Black events, which serves to showcase the beauty and versatility of our natural kinks.
Insightful conversations, similar to those that initially sparked Curly Girl Collective's creation of Curlfest, took place at the event's Empowerment Circle. There, many of us giggled or stared with our mouths gaping as legendary filmmaker Spike Lee casually dispersed fans, advertising his upcoming Netflix series, She's Gotta Have It. In this intimate space at the center of the festival's lawn, attendees listened attentively as Black luminaries like the legend himself, image activist Michaela Angela Davis, hair guru Ursula Stephens, and SheaMoisture's CEO Richelieu Dennis dropped poignant bombs regarding Black beauty.
The Black joy that infused the day's festivities may have manifested most visibly in the twerking, whining and grinding that overcame the growing crowd of immaculately-dressed bodies, ticking their hips to afrobreats. The explicit promotion of internal and external Black beauty and wellness was reflected in every element of this year's Curlfest. Marking the festival's biggest turnout yet, this year attracted a gamut of vendors — from Black-owned businesses and local visual artists, to Yoga practitioners that led rejuvenating sessions in the Wellness District. All day, women waited anxiously to enter the exquisite realm of the Shea Moisture-sponsored braiding stations where their 'fros would soon be transformed into geometrically complex braids. A sea of African prints and yellow pigment mounted the open space, where hundreds of Black women swung tote bags heavy with free Shea Moisture products. Since its inception six years ago, the
marketing group Curly Girl Collective has contributed to the birthing of a movement centered around Black women's hair and the beauty industry, while creating space for Black women to embrace their beauty with natural products. Gia Lowe, one of the founding members of Curlfest and Curly Girl Collective, cited a primary reason for the festival's fruition being the urgent need for increased visibility of Black women in the media and the beauty industry. "Some people think this is just a beauty festival, but this is so much more than that." She speaks to me emotively and with lustrous eyes. "Before [the inception of Curlfest] we were bringing together women and brands because our voices were dulled… It came out of a need to reclaim our beauty." This sentiment rings true for most of the Black women who attended Curlfest, who can certainly attest to this burdensome weight our hair holds when popular media refuse to acknowledge our natural existence.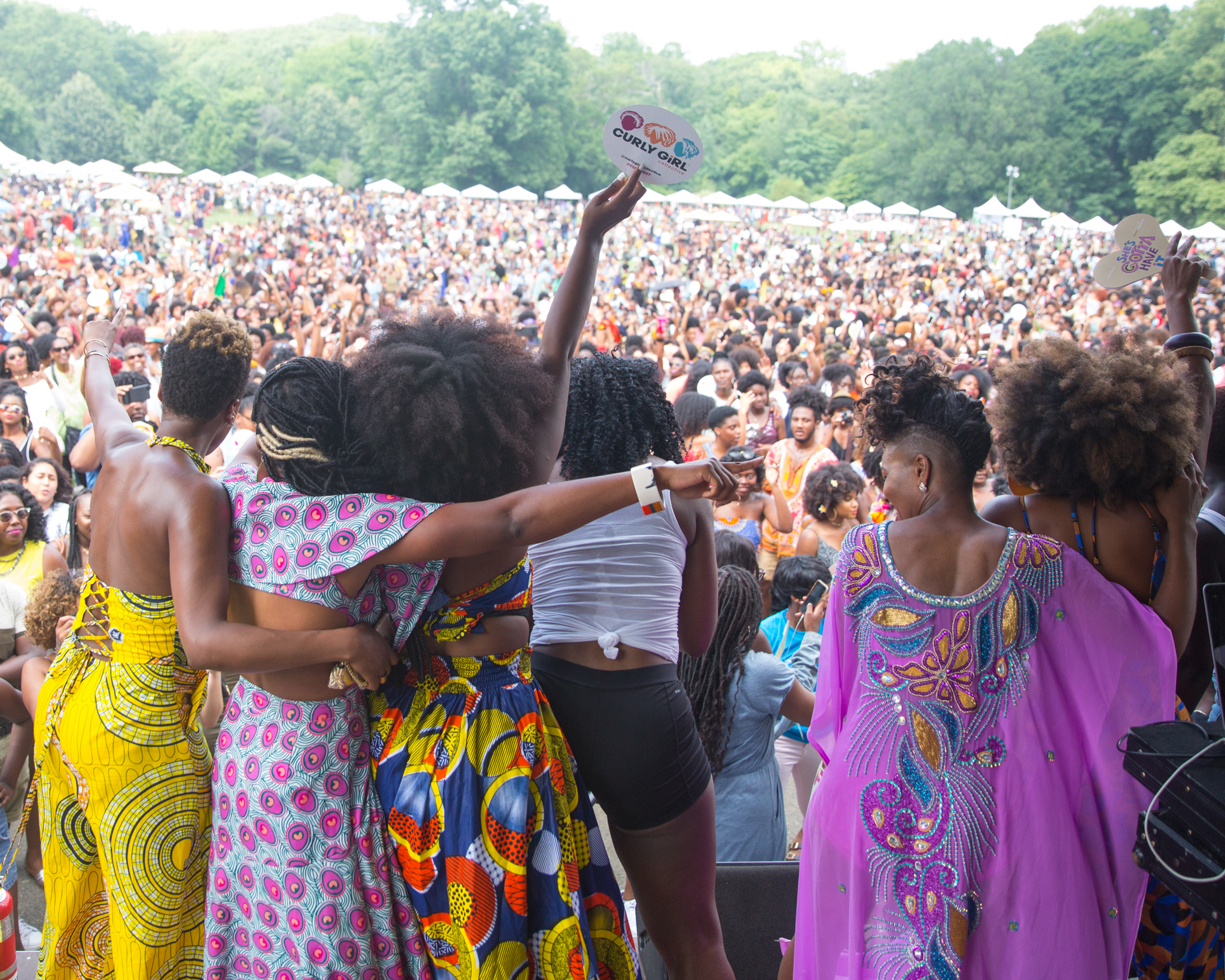 "Some people think this is just a beauty festival, but this is so much more than that. we were bringing together women and brands because our voices were dulled… It came out of a need to reclaim our beauty."
In conversation with CRWN, Michaela Angela Davis frankly added, "Black hair is a metaphor for the complexity of our identity... We have a lot to unlearn — I don't know if everyone can do what Black women can do." One fashion designer, Tamika, who first attended Curlfest last year, shared similar views regarding Black hair as a loaded extension of identity. Tamika donned a neat updo with tight coils cascading down her forehead when I approached her. "I'm learning to be comfortable with my own body." Tamika says, recalling her complex relationship with her hair. "[Curlfest is] really important. I'm 32, and I never really felt the need to embrace my hair until recently."
At the matrix of social justice activism and the celebration of Black natural beauty, Black women united in solidarity with one another at Curlfest. Every hair texture, skin tone and choice of dress was vocally applauded in this empowering atmosphere. The CRWN team is still recovering from the palpable love and admiration felt for Black women's profound intellect, creativity and beauty last weekend. #Curlfest2017 marked the official peak of the natural hair movement, and spread the message that it's here to stay.
Photos courtesy of Mark Clennon | @mark.c.